Name: John Cena
Height: 6'1"
Weight: 240lbs
Age: 34
Hometown: West Newbury, Massachusetts
Nickname: The Champ, The Chain Gang Commander, The Doctor of Thugonomics, The Chain Gang Soldier, The CeNation Commander-in-Chief, SuperCena
Manager?: No.
CWA accomplishments: None
Non-CWA accomplishments:
WWE:
World Heavyweight Champion 2x; WWE Champion 10x; Slammy Awards for: Holy $#!+ Move in 2010 and Superstar in 2009 & 2010
Type (Face or Heel): On the fence
Style of Wrestling: Mat wreslter
Gimmick (i.e. respected, hated, bully, etc.): Respected
CWA Win/Loss Record: 0-0-0
Current CWA Fueds: None
Finisher(s): STFU, FU
Appearance: John Cena circa 2007
Entrance Theme (If you wish to include one): Remember The Name by Fort Minor
Introduction Promo:
Pictures of John as a kid flash on screen. 6. 16. 26. Then videos of him show. Again. 6. 16. 26.
Now, you see John as he is in the present. Black shirt. Jorts. Sneakers. Hat. His face is serious, but you can see where his dimples would be were he to smile. His arms were crossed. He's surrounded by darkness, a single light shining on him.
Video rolls. Some of his best, and worst, matches in the WWE. Where he won the WWE title for the first time and where Batista broke his neck.
You see John again, this time sitting, in the same outfit as before. The singular light is still the only reason you can see John. "I am John Cena. What you saw is some of my best and worst moments in the WWE. The moments that people let define me. I went from a rapping heel." A picture of him in his early days. "To a smartass babyface." A picture of him not long before he left the WWE.
"For so long, I let people boss me around. Tell me what to do, how to act. But that's not me. I'm ashamed I was like that, even. Now, I'm here to stand up for myself. Dress how I want, say what I want, name my moves what I want. This is my life. Not theirs. And now, you're gonna see me. The real me."
John smiles, videos and pictures filling the once-black space surrounding him. "This is who I was." He motions the pictures and videos surrounding him. They fade. He's alone, surrounded by darkness, a single light shining on him. He's looking down. "This is who I am." He looks up, turns around and fades away. Before the clip finishes, you see one thing.
SuperCena. 2001-2011. John Cena. Forever. A picture of him appears behind the words and then everything fades away as well.
Superstar Base Pic (Post a picture of what your character looks like, or resembles):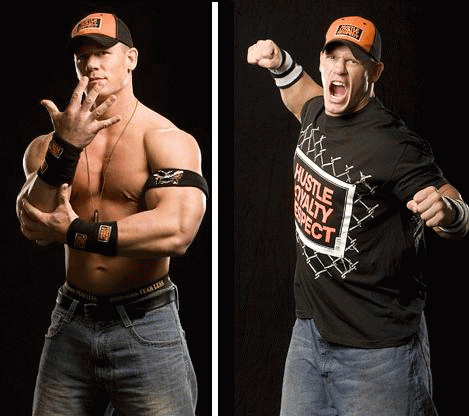 REASON FOR JOINING CWA: I came to Championship Wrestling Alliance for many reasons. More opportunities, different championships, different people. To get away from the WWE, from being predictable. To get a new look and try new things. Or, in a sense, try old things. To stop being PG and be R. I came here to be John Cena.
E-Mail address: shyangel280@yahoo
Aim/MSM/etc screen name: same