Name: John Morrison
Height: '5"9
Weight: 200
Age: 28
Hometown: LA, CA
Nickname: Johnny
Manager?: Criss Angel
CWA accomplishments: Having made the Undertaker submit? (I dunno)
Non-CWA accomplishments: He was a gymnast, elite, won many awards. Until he had an accident.
Type (Face or Heel): Er... For him the line between Heel and Face is paper thin...
Style of Wrestling: High Flying
Gimmick (i.e. respected, hated, bully, etc.): The Bitch Everyone can't help but watch.
CWA Win/Loss Record: 0-0-0
Current CWA Fueds:
Finisher(s): Starship Pain, Moonlight Drive
Appearance: A little petit, by powerful and muscled. Dark brown, shoulder length, silky hair. Striking green eyes, gorgeous legs, and toned abs.
Entrance Theme : Aint Not Make Believe by Whoever-the-hell-its-by lull
Introduction Promo: *is wearing fitted jeans and a shirt half unbuttoned, and smirk dancing on his lips as he flips the microphone around in his hand* I'm John Morrison. I'm hottest man you'll ever see, the sweetest bitch you'll ever meet... "pauses* And your worst nightmare. I'm here to win, to leave you weeping on the mat. That's a promise. And I'll do it, without a hair out of place. *runs hands through hair and smirks*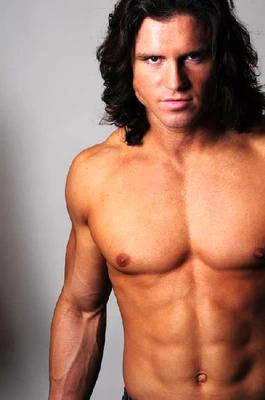 REASON FOR JOINING CWA: "Why I joined? Oh hm... well first off, the last company sucked ass. Second of all, I came to shake this place. I'm gorgeous, I'm talented, I was a former gymnast. I'm uin the history books. And I'm a spitfire. We'll see if you can handle me.
E-Mail address: mustange999 @gmail.com
Aim/MSM/etc screen name: mustange999 @aim.com